The Data Share Tool allows website users to link their Seizure Tracker® data to partner data bases. The data share partnerships will be set up with epilepsy community organizations that share the Seizure Tracker goal of furthering epilepsy research and improving the lives of those living with seizures.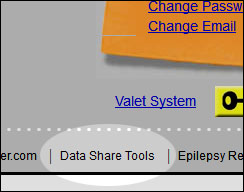 How to access the data share tool-
The data share tool is available through the Control Panel page. You willl find the "Data Share Tool" link in the lower left corner (black text link).

Using the Seizure Tracker Data Share Tool -
Most invites to participate in a data share relationship will be recieved thourgh an email from a community partner. As a Seizure Tracker user you will have the option to withdraw or "deactivate" this relationship at any time and for any reason. Unless otherwise stated in the "Data Share Agreement" all data will be de-identified and not include any personal identifiers including your name, any free text entered data, or other information that could identify you or your family.

Steps for creating a data share relationship:


• Select the data share partner/project.
• Review and follow the relationship instructions. Most relationships will require a ID number entered that will match a pre-established format along with validation information (typically a birth month and day).
• Review the data share agreement.
• Check the data share agreement box and click submit.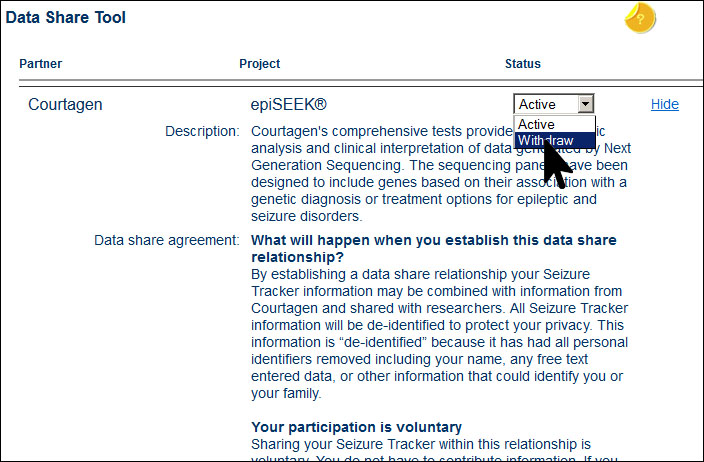 Once a relationship form is submitted the website users will be able to review and change the status of all existing relationships.
Please feel free to send any feedback to Support@SeizureTracker.com.