Seizure Success® and You!
Vagus Nerve Stimulation (VNS)
Did you know there are tools on Seizure Tracker to help you monitor epilepsy therapies, including VNS?
There are lots of different ways to treat epilepsy and when seizures are not well-controlled with medication, it is important to talk to a physician about other options. Medication, diets and devices can be used to prevent seizures.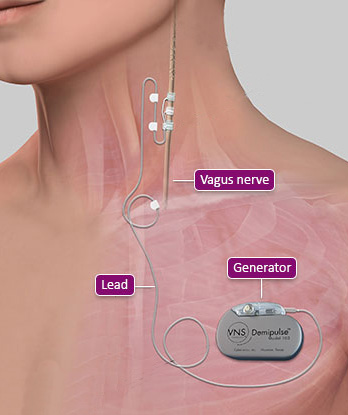 What is VNS Therapy?
VNS Therapy® offers an alternative for long-term seizure control, doesn't add drug-related side effects and may improve your quality of life. VNS Therapy involves a minimally invasive outpatient procedure that is usually covered by your medical insurance and does not involve brain surgery.
VNS Therapy is delivered by a generator similar to a pacemaker and a thin, flexible wire (lead) that stimulates the vagus nerve in the neck through mild pulses.
The vagus nerve then sends these pulses to the brain to help control your seizures.
A handheld patient magnet offers additional seizure control for some people. By briefly holding the magnet over the generator when you feel a seizure coming on or during a seizure, the seizure may be stopped or shortened in duration or intensity, as well as the recovery period shortened.
For more information on VNS Therapy visit the Cyberonics website.
We have been collaborating with Cyberonics, Seizure Tracker users and other patient advocacy groups to ensure SeizureTracker.com meets the needs of VNS users and their care providers.
Logging VNS information on Seizure Tracker...
As a part of our effort to help researchers and doctors understand seizures and related therapies, we have launched an anonymous data sharing initiative. This initative is in response to a Seizure Tracker user survey which highlighted our users' interest in participating in Epilepsy related research.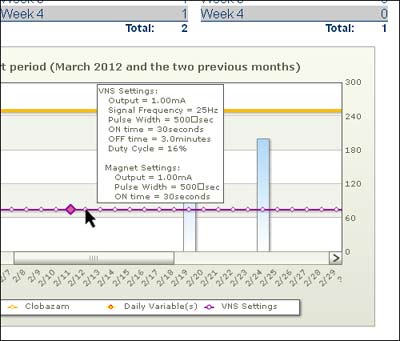 Reports generated on Seizure Tracker illustrate the impact of the VNS device setting on seizure activity.
Visit the Seizure Tracker help section to learn more.